Take a look at my newest creation, these adorable blue and white chevron, baby boy shower invitations and postage. These 5.25" x 5.25" invitations come in your choices of 11 different types of paper, 4 paper colors, and either rounded or normal style corners. Choose your postage in either horizontal or vertical orientation, and in a variety of sizes.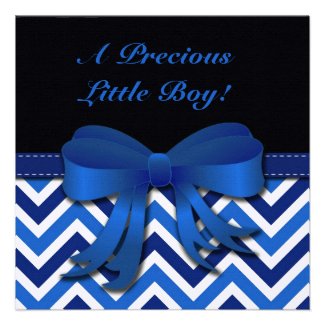 Blue and White Chevron Baby Boy Shower Invitation
by
LittleThingsDesigns
Design a
personalized invitation
at Zazzle
It's a Boy Baby Shower Invitation Postage
by
LittleThingsDesigns
Browse Blue and white Stamps online at
Zazzle.com
If this style doesn't suit your taste or needs, check out some more beautiful baby boy shower invitations from other great Zazzle artists! If you are looking for baby girl shower invitations, check out these adorable designs!